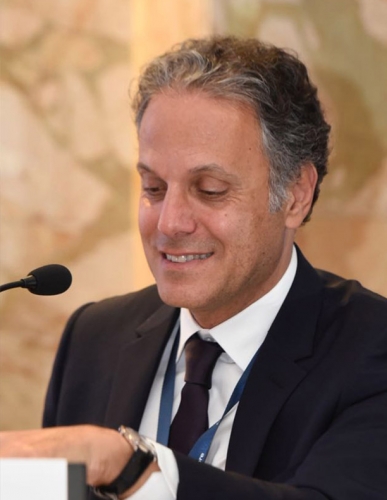 Dr Dany Touma
Biography
Dr. Touma obtained his Medical Doctor diploma from the Lebanese University School of Medicine in 1991 and subsequently trained in medicine and then dermatology at Boston University and Tufts University in Boston, Massachusetts in the U.S and obtained his American Board of Dermatology in 1997. In 1998, he completed a one year specialized Fellowship in Laser and Cosmetic Dermatologic Surgery and Mohs Micrographic Surgery for Skin Cancer at Boston University where he was at the leading edge of developments in lasers, and injectables such as botulinum toxin and fillers.

Between 1998 and 2000, Dr. Touma was director of Dermatologic Surgery at the Roger Williams Medical Center in Providence, RI , and in 2000 he became director of the Boston University Center for Cosmetic and Laser Surgery and Chief of Dermatology of the Boston VA Health System. His practice was dedicated to skin cancer surgery, cosmetic skin rejuvenation procedures, research and teaching, and his work was recognized at the US National Level. In 2004 Dr.Touma moved back to Beirut and established his private practice, while maintaining his position at Boston University as Adjunct Associate Professor of Dermatology. In 2009 he founded the Skin Clinic, a multi-specialty dermatology practice.

Dr. Touma has done major research in the area of laser hair removal, especially studying ways to decrease pain and side effects of treatment, and in photodynamic therapy for precancerous lesions and skin rejuvenation. His main clinical expertise is in the field of skin cancer surgery, cosmetic and laser dermatologic surgery, particularly for restorative skin rejuvenation, liposculpture, and hair restoration.

Dr. Touma has edited a book on the treatment of skin cancer, and has published many articles in American medical journals. He was elected president of the Lebanese Dermatological Society, for the years 2016-2018. Before that he served as LDS committee member for many years.
Curriculum Vitae
LANGUAGES SPOKEN
MEDICAL EDUCATION
Medical Doctor Diploma 1/84-12/91 (Seven years program)
Lebanese University School of Medicine
Beirut, Lebanon
APPOINTMENTS
President, Lebanese Dermatologic Society, 2016-2018
President-Elect, Lebanese Dermatologic Society, 2014-2016
Executive Board Member, Lebanese Dermatologic Society, June 2009-July 2012
Adjunct Associate Professor of Dermatology
Boston University School of Medicine, since January 2004
Assistant Professor of Dermatology
Boston University School of Medicine, July 1998-December 2003
Director, Boston University Center for Cosmetic and Laser Surgery, January 2001-December 2003
Chief, Dermatology Section
Boston VA Healthcare System, October 2000-December 2003
Active Staff, Department of Dermatology
Boston Medical Center, Boston, MA, July 1998-December 2003
Director of Dermatologic Surgery,
Department of Dermatology and Skin Surgery
Roger Williams Medical Center, Providence, R.I., July 1998 – February 2001
POSTGRADUATE TRAINING
Mohs micrographic surgery and cosmetic surgery fellowship
Boston University, 7.97 - 6.98
Dermatology residency
Boston University/Tufts University combined training program, 7.94 - 6.97

Internal medicine residency
Carney Hospital, Boston, Mass, 7.92 - 6.94
HONORS
Chief resident in dermatology, 7.96 - 6.97
BOARD CERTIFICATION
Diplomate, American Board of Dermatology: Nov 1997 (89th %ile). Recertification obtained in 2008
MAJOR INTERESTS
Innovations in laser, cosmetic dermatologic surgery and hair transplantation
Skin Cancers and facial reconstruction
Facial rejuvenation
Tumescent liposuction

LICENSURE
Lebanese Order of Physicians
Licensed to practice in Kuwait
Licensed to practice in Dubai (DHA)
Commonwealth of Massachusetts Board of Registration in Medicine (inactive)
Rhode Island Board of Medical Licensure (inactive)

PROFESSIONAL MEMBERSHIPS
Lebanese Dermatologic Society
Lebanese Order of Physicians
American Academy of Dermatology
American Society for Dermatologic Surgery
American College of Mohs Micrographic Surgery and Cutaneous Oncology
American Society for Lasers in Medicine and Surgery
BOOKS
Demierre MF, Touma D. The Clinics Atlas of Office Procedures. Office diagnosis and management of skin cancer. Saunders. June 2002

CHAPTERS
Touma D. Photodynamic Therapy for Basal Cell Nevus Syndrome. In: Photodynamic Therapy, Second Edition. Edited by Mitchel P.Goldman. In Press.
Touma D and Szeimies RM. Topical Photodynamic Therapy. In Skin Aging, Gilchrest and Krutmann (Eds). Springer. 2006
PUBLICATIONS
Al-Draibi MS, Touma DJ, Khachemoune A, Hair Removal with the 3-msec alexandrite laser in patients with skin types IV-VI: efficacy, safety, and the role of topical corticosteroids in preventing side effects. J Drugs Dermatol. 2007 Jan; 6(1):60-6

Touma D, Chemali Z. A neuropsychiatrist's perspective on selected dermatoses. CNS Spectr. 2005 Oct;10(10):784-90

Touma D, Rohrer T. Persistent hair loss 60 months after a single treatment with a 3 msec alexandrite (755 nm) laser. J Am Acad Dermatol. 2004 Feb;50(2):324-5

Touma D, Yaar M, Whitehead S, Konnikov N, Gilchrest B. Evaluation of short incubation photodynamic therapy for actinic keratosis and photodamage. Arch Dermatol. 2004 Jan;140(1):33-40

Touma D, Gilchrest B. Topical photodynamic therapy: A new tool in cosmetic dermatology. Seminars Cut Med Surg. 2003; 22(2):124-30

Touma D. Mohs surgery to reduce the size of facial defects and necessity for complex repairs. Plast Reconstr Surg. 2002;110(6):1601

Nahm W, Tsoukas M, Falanga V, Carson P, Sami N, Touma D. The effects on pain and epidermal damage with fine changes in the duration of dynamic cooling during 755 nm laser hair removal in patients with skin type IV-VI. Lasers Surg Med 2002;31(4):247-51.

Nahm W, Badiavas E, Touma D, Wilkel C, Falanga V. Calciphylaxis with peau d'orange induration and absence of classical features of purpura, livedo reticularis and ulcers. J Dermatol. 2002;29:209-213

Al-Draibi M, Goldberg L, Rohrer T, Touma D. The 3 msec Alexandrite in skin types IV-VI: safety, efficacy and the effect of topical corticosteroids on minimizing side effects. Lasers Surg Med. Abstract. 2002, Supp 14, 84-85.

Bajoghli A, Touma D, Ugent S et al. A nine year retrospective evaluation of the recurrence of port wine stains treated with pulse dye lasers. Lasers Surg Med. Abstract. 2001:13;27

Rohrer T, Touma D, Ugent S. Evaluating the safety and efficacy of a novel hair removal system. Lasers Surg Med. Abstract. 2001:13,24

Touma D, Ugent S, Rohrer T. The effect of varying the duration of dynamic cooling on the safety of laser hair removal. Lasers Surg Med. 2000:12;56

Ugent, S, Al-Amoudi O, Touma, D et al. The use of a new long pulsed dye laser for the treatment of photodamaged skin. Laser Surg Med. Abstract. 2000:12;54

Rohrer T, Ugent S, Touma D. Erbium:YAG resurfacing at the time of surgical closure. Lasers Surg Med. Abstract. 2000;12;61

Touma D, Rohrer T. The 3 msec alexandrite laser for hair removal. Lasers Surg Med. April 1999

Touma D, Krauss M, Feingold D, Kaminer M. The CO2 Laser in the treatment of Hailey-Hailey disease. Dermatol Surg. 1998;24:1411-1414

Touma D, Grande D. Island pedicle flaps in the vertical axis for the repair of lip defects. Abstract. Dermatol Surg. 1998;24:488

Touma D, Phillips T, Kurban A, Goldberg L. Recurrent rapidly progressive infiltrated plaques and bullae. Arch Dermatol. 1996;132(12):1432-1434

Touma D, Gross E, Karmody C, Fawaz K. Relapsing polychondritis in association with Crohn's disease. Am J Otolaryngol. 1996;17(6):424-426.

Choucair M, Al-Amoudi H, Touma D, Phillips T. A woman with painful ulceration after angioplasty. Hosp Pract. 1997;32(4):177-179
PRESENTATIONS
Treatment of difficult skin cancer. Lebanese Dermatologic Society Annual Meeting. Beirut, October 2019
Update on hair transplantation. Kuwait Derma Annual Congress. Kuwait City. October 2018
Chairman, 13th Annual Congress of Dermatology. Beirut, May 2018
Perfecting skin closure. 13th Annual Congress of Dermatology. Beirut. May 2018
The 'excited' state of cosmetic dermatology. 13th Annual Congress of Dermatology. Beirut. May 2018
Esthetic Tourism in Lebanon. Global Medical Tourism Forum. Lebanese Order of Physicians. Beirut. May 2017
Chairman, 12th Annual Congress of Dermatology. Beirut, April 2017
Clinical Applications. Laser and Phototherapy Workshop. 12th Annual Congress of Dermatology. Beirut, April 2017
Ablative Laser Peri-orbital Rejuvenation. 12th Annual Congress of Dermatology. Beirut, April 2017
Robotic Hair Transplantation. 11th National Congress of Dermatology. Beirut, May 2016
Retrospective Review of a Single Treatment of Pigmentary Dark Circles using 'Sandwich' 2790 nm Fusion and Q-Switched-Alexandrite Combination Lasers. American Society of Lasers in Medicine and Surgery Annual Meeting. Boston. April 2016
Robotic Site Making in Hair Transplantation. American Society of Lasers in Medicine and Surgery Annual Meeting. Boston. April 2016
Esthetic Tourism in Lebanon. Lessons to be learned. World Congress on Health Tourism. Dubai. September 2015
Laser for onychomycosis: Pros and cons. Lebanese Dermatologic Society Annual Meeting. Beirut, May 2015
Treatment of periorbital hyperpigmentation. International Master Class on Skin Aging (IMCAS) Annual Meeting. Paris, February 2015
Fillers in the Middle East. International Master Class on Skin Aging (IMCAS) Annual Meeting. Paris, February 2015
The art and science of follicular hair transplantation. Les Printemps de l'USJ. Beirut, June 2014
Topics in cosmetic dermatology. Boston University department of dermatology. Boston, October 2013
A Retrospective Review of a Single Treatment of Pigmentary Dark Circles using 'Sandwich' 2790 nm Fusion and QS-Alexandrite Combination Lasers. Annual Meeting of the American Society of Lasers in Medicine and Surgery. Boston, April 2013
Cosmetic dermatology: Beauty or the beast. Lebanese Dermatologic Society Annual Meeting. Beirut, May 2012
Workshop on follicular hair transplantation. Lebanese Dermatologic Society Annual Meeting. Beirut, May 2012
Current treatment of skin cancer. Department of otolaryngology, American University Hospital of Beirut. March 2012
Pearls in skin closure. Boston University School of Medicine, Dept. of Dermatology, Boston, Oct 2011
Optimizing skin repair. Lebanese Dermatologic Society Annual Meeting. Beirut, May 2011
Follicular hair transplantation. Boston University School of Medicine, Dept. of Dermatology, Boston, Oct 2010
Soft tissue augmentation 2009. Boston University School of Medicine, Dept. of Dermatology. Boston, Nov 2009
Co-chair, Aesthetic surgery of the face course, International Society for Dermatologic Surgery Annual Meeting. Vienna, Nov 2009
2790nm: The ideal wavelength for skin resurfacing. Lebanese Dermatologic Society Annual Meeting. Beirut, May 2009
Global state of the art: Dermal fillers. International Society for Dermatologic Surgery Spring Meeting. Bangkok, March 2009
Learning from complications and how to prevent them: Dermal fillers. International Society for Dermatologic Surgery Spring Meeting. Bangkok, March 2009
Choosing the best closure for the job. International Society for Dermatologic Surgery Spring Meeting. Bangkok, March 2009
Follicular Hair Transplantation. Lebanese Dermatologic Society Annual Meeting. Beirut, May 2008
Update on skin aging: Thermage and photodynamic therapy. Symposium on skin aging. American Academy of Dermatology Annual Meeting. San Antonio, TX, February 2008.
Laser treatment of pigmented lesions. Lebanese Dermatologic Society Annual Meeting. Beirut, May 2007
Topical PDT in the Middle East. American Academy of Dermatology Annual Meeting. Washington DC, February 2007
Skin tightening. Lebanese Dermatologic Society Annual Meeting, Beirut, May 2006
Blue light PDT. American Academy of Dermatology Annual Meeting. San Francisco, February 2006
Photodynamic therapy for actinic keratoses. American Society for Dermatologic Surgery and Mohs Micrographic Surgery and Cutaneous Oncology Combined Annual Meeting. Atlanta, October 2005
Photodynamic therapy for photochemorejuvenation. European Academy of Dermatology and Venereology Annual Meeting. London, October 2005
New horizons in Dermatology. Hotel-Dieu de France Department of Dermatology Annual Update. Beirut, March 2005
Co-chair, Expanding the use of photodynamic therapy. American Society for Dermatologic Surgery and Mohs Micrographic Surgery and Cutaneous Oncology Combined Annual Meeting. San Diego, September 2004.
Mohs micrographic surgery for skin cancer in Lebanon. American Society for Dermatologic Surgery and Mohs Micrographic Surgery and Cutaneous Oncology Combined Annual Meeting. San Diego, September 2004.
Local anesthesia. Middle East Medical Assembly, American University of Beirut. May 2004
Dog Ear Repair. Middle East Medical Assembly, American University of Beirut. May 2004
Skin Flaps. Middle East Medical Assembly, American University of Beirut. May 2004
Vascular lasers: Update 2004. Middle East Medical Assembly, American University of Beirut. May 2004
SmoothBeam: From controlled injury to clinical benefit. Seminar and workshop. American University of Beirut Annual Dermatology Update. Beirut, January 2004.
Topical Photodynamic Therapy for photorejuvenation. International Masters in Cutaneous Medicine and Surgery (IMCAS) Annual Meeting. Paris, January 2004
PHACES Syndrome. New England Dermatologic Society Annual Meeting. Boston, MA, December 2003
Short Incubation Levulan Photodynamic Therapy for actinic keratoses and facial rejuvenation. American Society for Lasers in Surgery and Medicine Annual Meeting. Anaheim, CA, April 2003
Preliminary evaluation of epidermal cooling during laser tattoo removal. American Society for Lasers in Surgery and Medicine Annual Meeting. Anaheim, CA, April 2003
Short Incubation Levulan Photodynamic Therapy for facial rejuvenation. American Academy of Dermatology Annual Meeting. San Francisco, CA, March 2003
Short Incubation Levulan Photodynamic Therapy for facial rejuvenation. American Society for Dermatologic Surgery Annual Meeting. Chicago, October 2002
Levulan PDT for facial rejuvenation. 9th Brazilian Congress on Aesthetic Medicine. Sao Paolo, Brazil. June 2002
Update on skin aging. 9th Brazilian Congress on Aesthetic Medicine. Sao Paolo, Brazil. June 2002
Skin Cancer. Dermatology for primary care physicians course. Boston University. May 2002.
The 3 msec Alexandrite in skin types IV-VI: safety, efficacy and the effect of topical corticosteroids on minimizing side effects. American Society of Lasers in Medicine and Surgery Annual Meeting. Atlanta. April 2002
Update on laser therapy. Gulf Cooperation Council Biannual Meeting. Dubai, United Arab Emirates. November 2001
Cutaneous neoplasms: signs and symptoms. Boston University-Tufts University Alumni Day Course. Tufts University, Boston, June 2001
Pulse dye laser therapy and non-ablative resurfacing of photoaged skin. Pan-Arab League of Plastic Surgeons Annual Congress. Amman, Jordan. April 2001
Aging skin and skin cancer: current interventions. Medical Grand Rounds. Brockton Hospital. Brockton, Mass. April 2001
Update on laser hair removal. Annual Meeting of the American University of Beirut Department of Dermatology. November 2000.
The effect of varying the duration of dynamic cooling on the safety of laser hair removal. American Society of Lasers in Medicine and Surgery Annual Meeting. Reno, NV. April 2000.
Aging Skin: Topics in treatment and referral. American College of Physicians/American Society of Internal Medicine Annual Meeting. Philadelphia, PA. April 2000
The 3 msec alexandrite laser for hair removal. European Medical Laser Association annual Meeting, Florence, Italy, October 1999
The 3 msec alexandrite laser for hair removal. American Society for Dermatologic Surgery Annual Meeting. Miami, May 1999
The 3 msec alexandrite laser for hair removal. American Society for Lasers in Medicine and Surgery Annual Meeting. Orlando, April 1999
Laser skin resurfacing using CO2 and Er:YAG Lasers. VIth Congress Of Pan-Arab League of Dermatologists, Beirut, Lebanon, October 1998
Laser treatment of leg telangiectasia. VIth Congress of Pan-Arab League of Dermatologists, Beirut, Lebanon, October 1998
Botox, Goretex implants and fat transfers. Anatomy, Reconstruction and Cosmetic Surgery: A Hands-On Course. Boston University, July 1998 and July 1999
Premalignant cutaneous tumors and prevention of skin cancer. Dermatology for the primary care physician. Boston University, May 1998 and May 1999
Island pedicle flaps in the repair of lip defects. American College of Mohs Micrographic Surgery and Cutaneous Oncology annual meeting, Portland, OR, May 1998
Update on laser hair removal, Toronto, Canada, May 1998
Update on laser treatment of leg veins, Toronto, Canada, May 1998
Promoting healthy skin. Boston University, Commonwealth Medical Group, April 1998
Treatment of chronic benign familial pemphigus with the Ultrapulse CO2 Laser. American Society of Dermatologic Surgery annual meeting, Boston, May 1997
Epidermolysis bullosa acquisita. Atlantic Dermatologic Society annual meeting, Boston, May 1997
Dowling-Degos disease. New England Dermatologic Society annual meeting, Boston, December 1997
Solitary congenital self-healing Langerhans cell histiocytosis. American Academy of Dermatology annual meeting, Washington, D.C., March 1997 and New England Dermatologic Society annual meeting, Boston, December 1996
Bullous erythema nodosum leprosum. American Academy of Dermatology annual meeting, San Francisco, February 1996 and New England Dermatologic Society annual meeting, Boston, December 1995
Calciphylaxis. New England Dermatologic Society annual meeting, Boston, December 1995
Benign cutaneous periarteritis nodosa. New England Dermatologic Society annual meeting, Boston, December 1995
Cicatricial pemphigoid. New England Dermatologic Society annual meeting, Boston, December 1994
Cold urticaria. New England Dermatologic Society annual meeting, Boston, December 1994
(PAST) EDITORIAL REVIEW
Lasers in Medicine and Surgery
Journal of the American Academy of Dermatology
Archives of Dermatology
Plastic and Reconstructive Surgery